On the first of several epic 4-day weekends spent traveling out West in 2016, this one started out with a 13,800-foot gain in 8 hours–from Dulles Airport to the summit of Mount Spalding! Mount Spalding isn't officially one of the highest 100 mountains in Colorado, but if you include the 11 USGS-named summits in addition to the ranked ones, there are 111 on the list. Spalding was the last of the named-but-unranked 11 I had yet to summit, and it would be a great training and acclimation hike for the weekend that lay ahead. Always fun to see the mountain goats up there, too!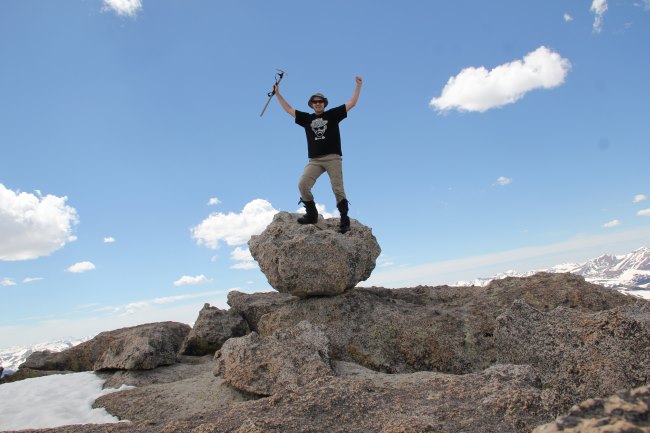 (Goofing around on Spalding's neat summit boulder: self-timed shot)
"Thunder Pyramid" was the weekend's main event. Ironically, it is not officially named but does fall on the "official" 100-highest list. It was rightly one of the most dreaded I had yet to climb, but doing it in steep snow was the right call. Much safer without all the loose exposed rock that is unavoidable in summer. It turned out to be a longer, tougher day than I had anticipated, but I made it up and back down in one piece, relieved to never have to return!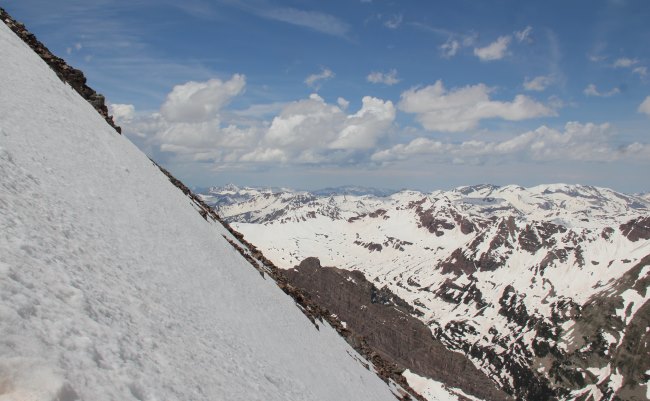 My legs weren't quite up to par for Day 3, but still I hiked the many switchbacks up to Ice Lake Basin. My goal was the summit of Vermilion Peak, but by the time I made it up to the lake I was wallowing in wet sloppy snow up to my waist. Thunderstorms hit just as I got back to my rental car, and I was not regretting having turned around. It was a neat place to see, and of course–I'll be back someday..
Icy Ice Lake.